Mini Cheesecake Recipe: Are you ready to embark on a delightful journey of taste and texture? Look no further than these easy mini cheesecakes – a symphony of flavors that will captivate your taste buds and leave you craving more. These petite treats combine a rich, creamy filling with a buttery graham cracker crust, delivering a mouthwatering experience that's simply irresistible. Topped with homemade whipped cream and a medley of fresh berries, these dainty desserts exude elegance in every bite.
Discover the Joys of Mini Desserts
If you're new to the world of mini desserts, now is the perfect time to start. These bite-sized wonders are not only delightful but also highly shareable and easily transportable. Embrace guilt-free indulgence, as their diminutive size offers a sense of moderation without compromising on taste. Among the pantheon of mini desserts, the classic vanilla mini cheesecake shines brightly, promising to leave a lasting impression on your taste buds.
Whisking Up the Vanilla Mini Cheesecake
Creating these scrumptious treats is a breeze. The recipe demands only a handful of readily available ingredients and a bit of love. Begin by crafting the buttery graham cracker crust – a simple blend of crushed graham crackers and melted butter, forming a delightful foundation for the cheesecake. Next, whip up the rich and creamy filling, complete with a pleasant tang that adds depth to the dessert's flavor profile.
Why These Individual Cheesecakes Are the Ultimate Dessert Delight
Prepare to be swept away by the sheer bliss of these delectable individual cheesecakes – a recipe that promises to become your all-time favorite. Get ready to indulge in a delightful blend of quick, easy, and utterly delicious flavors. Here's why these mini cheesecakes have captured the hearts of many:
Exquisite Texture: Prepare to be amazed by the luxurious texture of the filling. Creamy, smooth, and thick, it tantalizes the palate with each luscious bite. Paired harmoniously with a buttery graham cracker crust, these mini delights offer the perfect marriage of flavors and textures.
A Touch of Tang: Unveil the secret behind the tantalizing tang that sets these cheesecakes apart. The addition of sour cream to the filling artfully balances the richness of cream cheese, infusing the dessert with a subtle tanginess that is simply irresistible.
No-Fuss Baking: Bid farewell to complicated baking techniques! Unlike its full-sized counterpart, this recipe spares you the need for a water bath. Thanks to clever preparation, you can effortlessly bake these mini cheesecakes right in a cupcake pan, complete with convenient cupcake liners.
Speedy Indulgence: Time-starved but yearning for cheesecake perfection? Look no further! These mini wonders save the day with their quick baking and cooling process, taking a mere 40 minutes to complete. Compare that to the traditional 2 hours required for a standard cheesecake, and you'll feel like you've uncovered a time-saving culinary gem.
Individual Treats: Embrace the charm of single-serve desserts, tailor-made for sharing at gatherings and events. Say goodbye to messy slicing and serving – each mini cheesecake comes elegantly packaged in its own little wrapper, ready to be savored with ease.
How to make Mini Cheesecake (Mini Cheesecake Recipe))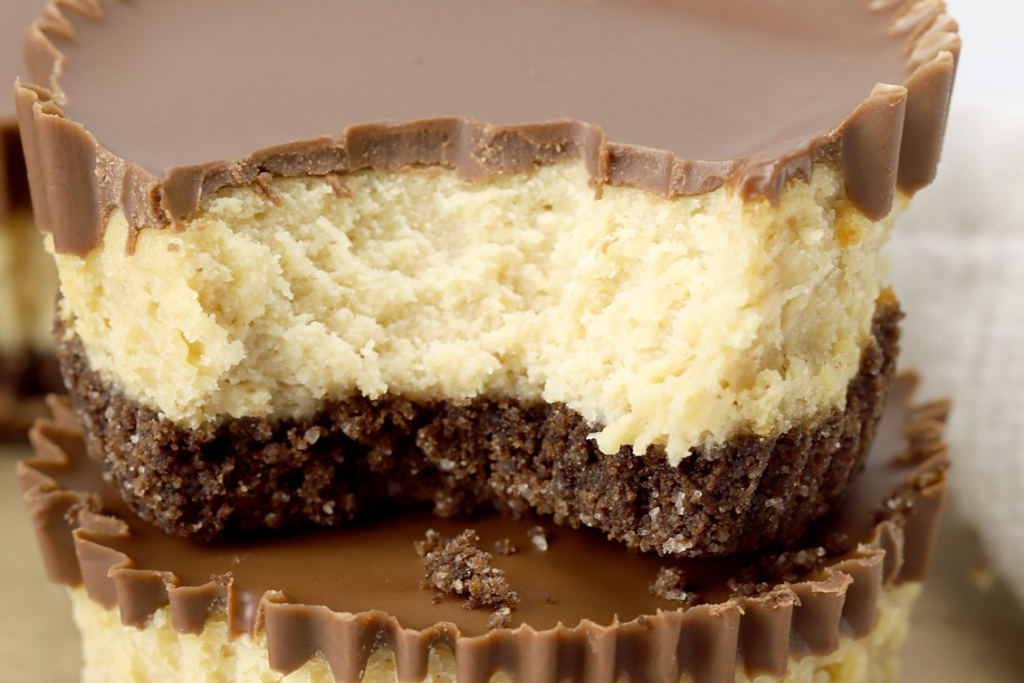 If you're looking for a delightful and easy-to-make dessert to satisfy your sweet cravings, look no further than these Mini Classic Cheesecakes. With a creamy filling and a buttery crust, these mini cheesecakes are perfect for sharing with a loved one or simply enjoying on your own. The recipe is beginner-friendly and can be whipped up in no time. So, let's dive into the details and learn how to create these delectable treats!
Ingredients:
Crust:
1 cup graham cracker crumbs
2 tablespoons granulated sugar
1/4 teaspoon salt
5 tablespoons melted butter
Filling:
1 1/2 packages softened cream cheese (12 ounces)
1/3 cup granulated sugar
1 teaspoon vanilla extract
2 tablespoons cornstarch
2 eggs
1/2 cup sour cream
Tools:
3 4-inch mini springform pans
Instructions:
Preheat the oven: Begin by preheating your oven to [insert the appropriate temperature for baking].
Prepare the crust: In a bowl, combine the graham cracker crumbs, granulated sugar, salt, and melted butter. This will serve as the crust for your mini cheesecakes.
Assemble the crust: Take your mini springform pans and evenly divide the crust mixture among them. Press down firmly to create a compact and smooth crust layer.
Make the filling: In a separate mixing bowl, add the softened cream cheese, granulated sugar, and vanilla extract. Using an electric mixer, blend the ingredients until smooth and creamy.
Add the cornstarch and eggs: Gradually add the cornstarch to the cream cheese mixture while continuing to mix. Then, add the eggs, one at a time, ensuring they are fully incorporated into the mixture.
Incorporate sour cream: Finally, add the sour cream to the filling mixture and blend until it's well combined and silky.
Pour the filling into the pans: Carefully pour the cream cheese filling into each mini springform pan, distributing it evenly among them.
Bake the mini cheesecakes: Place the pans in the preheated oven and bake for [insert baking time] or until the edges are set, and the center is slightly jiggly.
Cool and chill: Once baked, remove the mini cheesecakes from the oven and let them cool to room temperature. Afterward, cover the pans with plastic wrap and refrigerate the cheesecakes for at least [insert chilling time] to let them firm up.
Add your favorite topping: Just before serving, feel free to add your favorite toppings, such as fresh berries, fruit compote, or chocolate ganache, to enhance the flavor and presentation of these delightful treats.
Delicious Pineapple Cream Cheese Pound Cake Recipe | Easy and Moist
5 Shredded Chicken Recipes Very Simple To Try Home