Discover 5 easy shredded chicken recipes to enjoy at home. Simple and delicious meals for everyone to try!
Shredded Chicken Recipes: If you have some shredded chicken handy, you're in luck! This versatile ingredient opens up a world of culinary possibilities right in your own kitchen. From quick salads to cozy soups, hearty casseroles, tacos, sandwiches, and more, the options are endless. In this article, we have compiled a list of easy shredded chicken recipes that will inspire your taste buds and help you make the most of this convenient and delicious ingredient. Whether you have leftovers to use up or are preparing some fresh shredded chicken, these recipes will add flair to your everyday meals.
5 Shredded Chicken Recipes
Discover 5 easy shredded chicken recipes for delicious home-cooked meals. Simple and satisfying dishes to try today!
Creamy Chicken and Potato Soup with Bacon: A Comforting Delight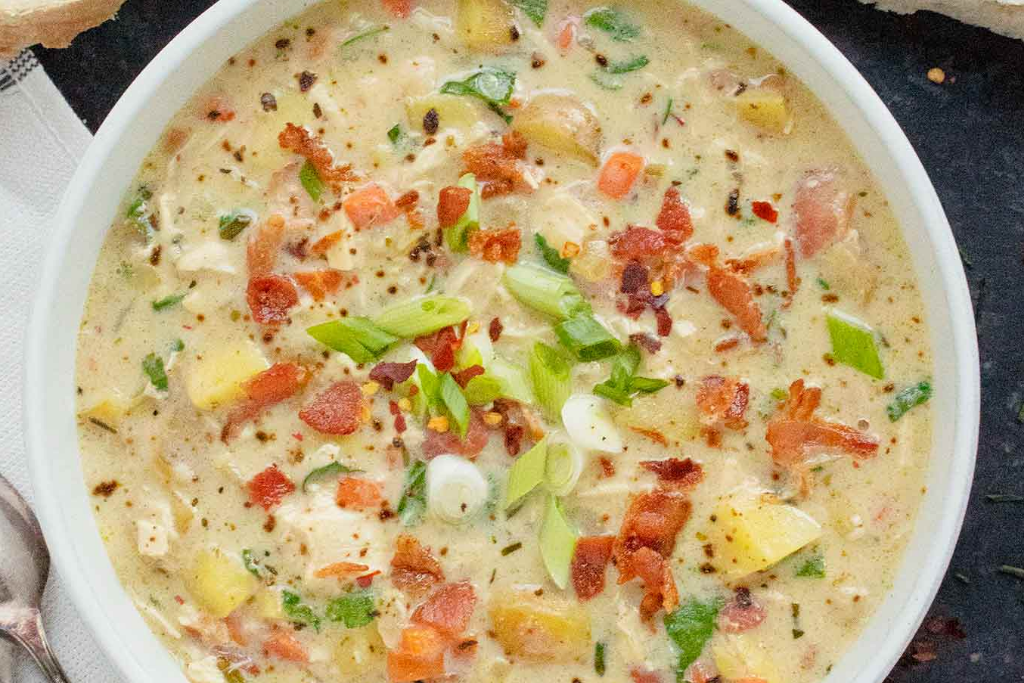 Looking for the perfect weeknight meal or a comforting soup to warm up those chilly evenings? Look no further! This creamy chicken soup with potatoes and bacon is a delightful and easy-to-make recipe that will have your family begging for seconds. Packed with wholesome ingredients and flavor, this soup is a winner on all fronts. Plus, we've made it a little healthier by opting for whole milk and plenty of veggies instead of heavy cream. Whether you have leftover rotisserie chicken or boneless chicken in the fridge, this one-pot wonder is sure to satisfy your cravings.
Ingredients:
4 slices bacon, chopped
1 tbsp. unsalted butter
1 leek (light green parts), halved and sliced
2 cloves garlic, pressed
1 tsp. fennel seeds, crushed
2 tbsp. all-purpose flour
2 cups whole milk
4 cups chicken stock
3/4 lb. red potatoes cut into 1/2-inch chunks
6 sprigs thyme
Kosher salt & freshly ground black pepper
2 cups shredded rotisserie chicken
1 cup frozen corn, thawed
Sliced fresh chives, for serving
Directions:
Step 1:
In a large pot over medium heat, cook the chopped bacon until browned and crisp, which usually takes about 7 to 8 minutes. Transfer the bacon to a paper towel-lined plate using a slotted spoon, and set it aside, while keeping the pot and the bacon fat for later use.
Step 2:
Add the unsalted butter and sliced leek to the pot. Cook and stir occasionally until the leek becomes tender, which should take around 3 to 4 minutes. Now, add the pressed garlic and crushed fennel seeds, continuing to stir until fragrant, which usually takes about a minute. Sprinkle the all-purpose flour into the pot, stirring it in for an additional minute.
Step 3:
Slowly whisk in the whole milk and then the chicken stock into the pot. Add the red potato chunks and thyme sprigs, and season the mixture with kosher salt and freshly ground black pepper. Bring the mixture to a boil, then reduce the heat and let it simmer until the potatoes become tender, which should take around 14 to 16 minutes.
Step 4:
Add the shredded rotisserie chicken and thawed corn to the soup, cooking until the entire mixture is heated through, approximately 1 to 2 minutes. Remove and discard the thyme sprigs.
Step 5:
Serve the creamy chicken and potato soup topped with crispy bacon and fresh chives, and enjoy the heartwarming flavors.
Note: This soup can be stored in the fridge for 3-4 days or up to 4 months in the freezer.
Easy Stovetop Chicken Pot Pie: A Delicious One-Pan Wonder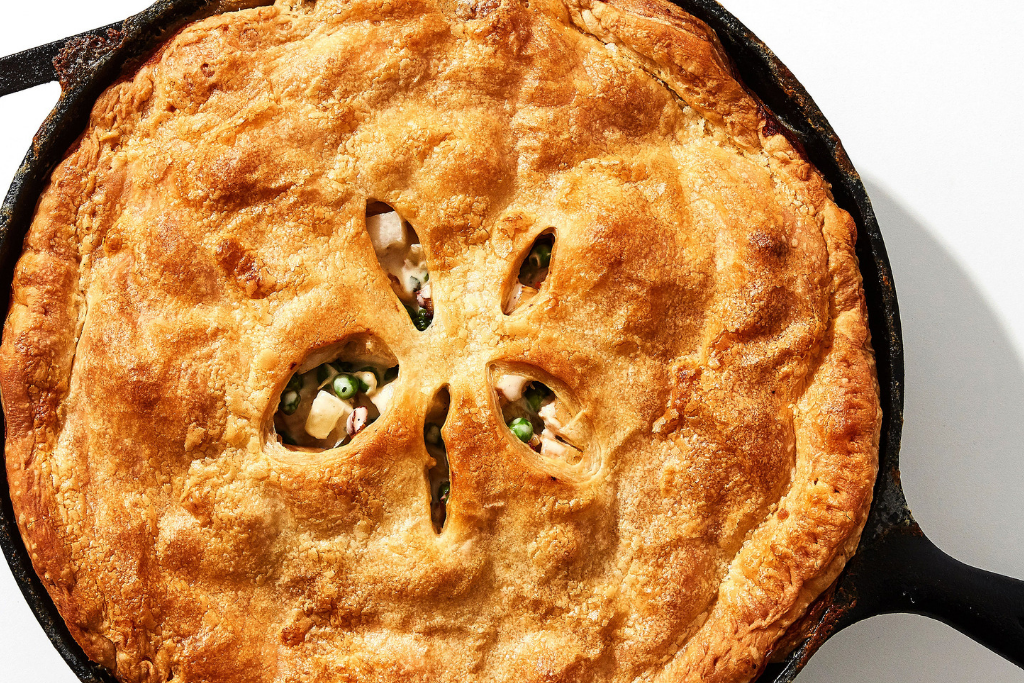 This stovetop chicken pot pie recipe is a game-changer – quick, delicious, and all made in one large saucepan! Forget about the tedious process; this comforting dish can be on your table in no time. With a creamy and flavorful filling packed with shredded rotisserie chicken, veggies, and a hint of herbs, topped with warm buttermilk biscuits, it's the ultimate comfort food to indulge in. Say goodbye to complicated pot pie recipes and hello to simplicity without compromising taste.
Ingredients:
4 frozen buttermilk biscuits
1 1/2 cups chicken stock
1 cup whole milk
3 tablespoons all-purpose flour
1 1/2 teaspoons poultry seasoning
1 small onion, chopped
1 cup matchstick carrots
3 tablespoons butter
2 cups shredded rotisserie chicken
1 cup frozen cut green beans
2 tablespoons chopped fresh flat-leaf parsley
Biscuits, for serving
Directions:
Step 1:
Begin by preparing the 4 frozen buttermilk biscuits according to the package directions. Set them aside to use as a delicious topping later.
Step 2:
In a large mason jar, shake together the chicken stock, whole milk, flour, and poultry seasoning until well combined. In a large saucepan over medium-high heat, cook the chopped onion and matchstick carrots in butter until they become softened, which usually takes 2 to 3 minutes. Slowly whisk in the milk mixture, bringing it to a boil. Reduce the heat and let it simmer, stirring often, until the mixture thickens to a creamy consistency, which usually takes 6 to 8 minutes.
Step 3:
shredded rotisserie chicken, frozen chopped green beans, chopped fresh flat-leaf parsley. Cook until everything is warmed through, which should take about 4 to 5 minutes. Season the filling with kosher salt and black pepper according to your taste preferences.
Step 4:
Serve the creamy chicken pot pie filling in individual bowls or plates, and top each serving with the warm buttermilk biscuits. The combination of the savory filling and the fluffy biscuits will surely delight your taste buds.
Flavorful Chicken Quesadilla Recipe with a Twist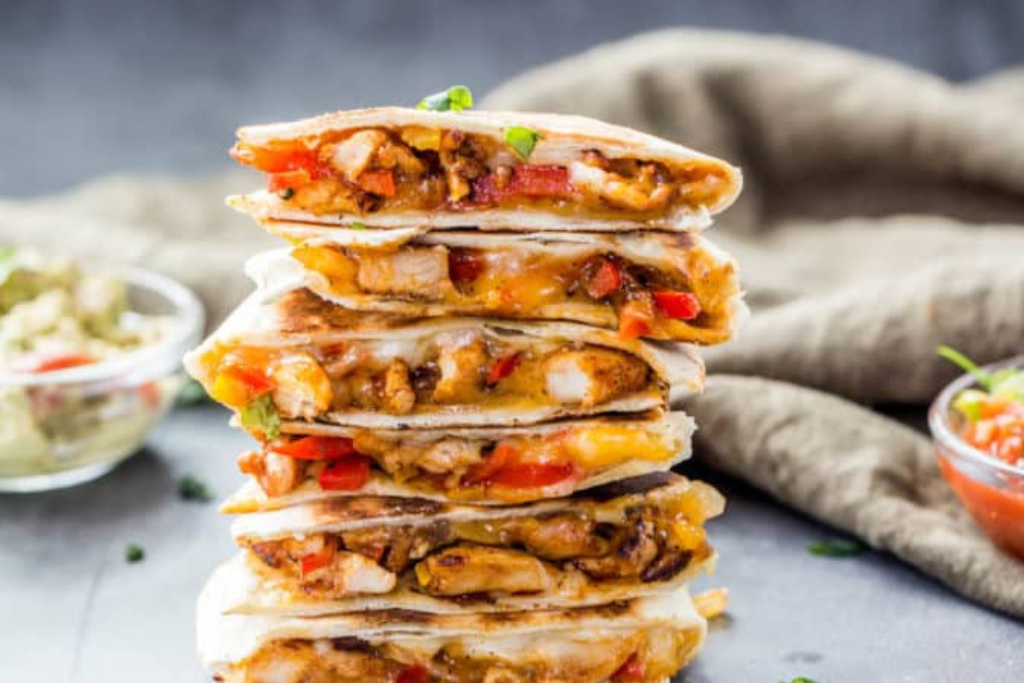 Indulge in the goodness of these mouthwatering chicken quesadillas – a fast and easy snack or dinner option that will leave you craving for more. While traditional cheese quesadillas are simple, we've taken it up a notch by adding a quick and delicious sauce that not only enhances the flavors but also keeps the ingredients together for a mess-free eating experience. With a blend of tender shredded chicken, rich mushrooms, and gooey sharp Cheddar cheese, these quesadillas will impress your taste buds with every bite. So, get ready to elevate your quesadilla game with this delightful twist!
Ingredients:
1 tablespoon plus 1 teaspoon olive oil, divided
4 teaspoons all-purpose flour
2 teaspoons chili powder
1/2 cup chicken stock
1/2 red bell pepper, chopped
4 ounces sliced mushrooms
6 ounces shredded cooked chicken breasts (about 1 1/4 cups)
6 ounces shredded sharp Cheddar cheese (about 1 1/2 cups)
4 large flour tortillas
Salsa, sour cream, fresh cilantro, lime wedges, and sliced avocado, for garnish
Directions:
Step 1:
In a medium saucepan over medium heat, heat 1 tablespoon of olive oil. Add the flour and chili powder, stirring continuously for 1 to 2 minutes. Gradually whisk in the chicken stock, ensuring no lumps remain. Add the chopped red bell pepper, sliced mushrooms, and shredded chicken. Cook and stir occasionally until the vegetables turn tender, usually taking around 6 to 8 minutes. Remove the mixture from heat and stir in the shredded sharp Cheddar cheese until it melts and creates a creamy sauce.
Step 2:
In a large nonstick skillet over medium heat, heat 1/2 teaspoon of olive oil. Take a tortilla and spread half of the vegetable and cheese mixture on one side, leaving a 1-inch border all around. Place another tortilla on top to create a quesadilla. Cook it in the skillet, turning once, until both sides are golden brown and the cheese is melted, taking around 2 to 3 minutes per side. Repeat this process with the remaining oil, tortillas, and vegetable mixture.
Step 3:
Slice the prepared quesadillas into wedges and serve them with your favorite garnishes, such as salsa, sour cream, fresh cilantro, lime wedges, and sliced avocado.
Spice Up Your Back-to-School Dinners with Slow-Cooker Chicken Burritos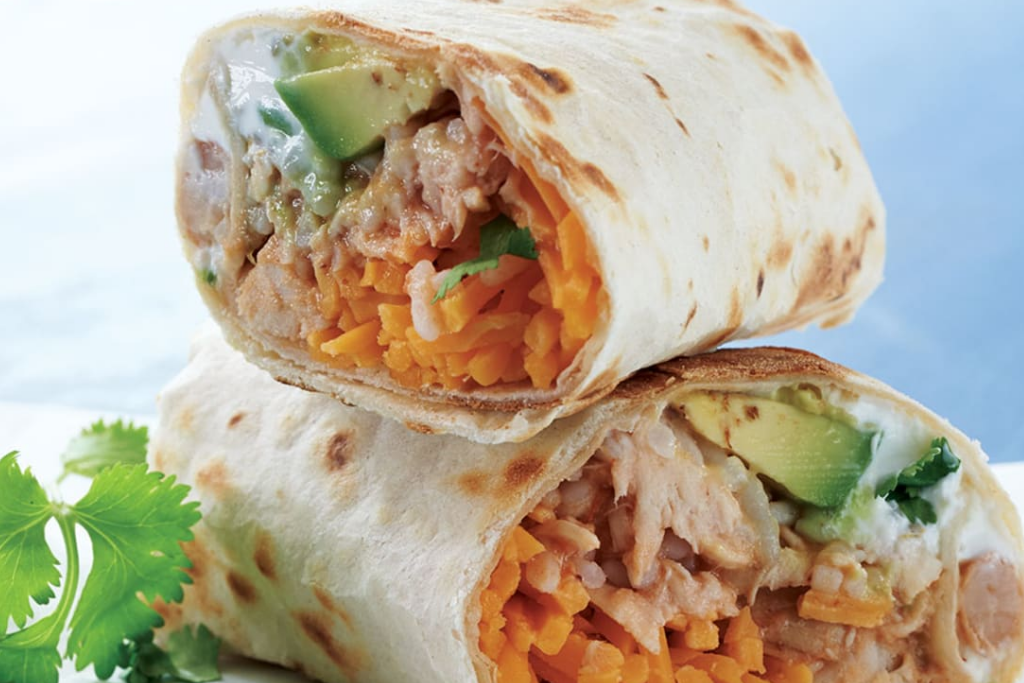 Back-to-school season is just around the corner, and as you gear up for the busy days ahead, incorporating slow cooker chicken recipes into your dinner rotation can be a lifesaver. This delightful Slow-Cooker Chicken Burrito recipe is not only incredibly flavorful but also incredibly versatile. Whether you serve it in burritos, tacos, or as part of a chicken taco salad, this dish is sure to be a crowd-pleaser. Plus, the leftovers make a delicious and convenient option for your lunchbox!
Ingredients:
1 small sweet onion, diced
1 green bell pepper, diced
1 (15-oz) can black beans, drained and rinsed
1 (16-oz) jar salsa (choose your favorite brand)
2 tablespoons chopped fresh cilantro
2 teaspoons ground cumin
¼ teaspoon cayenne pepper (adjust to taste for spice level)
¼ teaspoon salt
¼ teaspoon black pepper
½ to 2 pounds boneless, skinless chicken thighs (for juicier meat)
1½ cups uncooked white rice
Tortillas
Instructions:
In a 5-quart or larger slow cooker, combine the diced onion, diced green bell pepper, black beans, salsa, chopped cilantro, ground cumin, cayenne pepper, salt, and black pepper. Mix everything well to ensure the flavors are evenly distributed.
Add the boneless, skinless chicken thighs to the mixture, making sure they are submerged in the flavorful sauce.
Cover the slow cooker with the lid and cook on LOW for 6 hours, allowing the chicken to become tender and infused with the delicious spices. Avoid opening the lid while cooking to retain the heat and flavors.
After 6 hours, carefully remove the cooked chicken from the slow cooker and use two forks to shred it into bite-sized pieces.
Add the uncooked rice to the slow cooker, stirring it into the sauce and chicken. Ensure the rice is evenly distributed.
Cover the slow cooker again and cook on HIGH for an additional 20 minutes or until the rice is fully cooked and has absorbed all the flavors.
Now it's time to assemble the burritos! Warm up your tortillas and fill them with the mouthwatering chicken and rice mixture. Feel free to add your favorite toppings, such as shredded cheese, lettuce, diced tomatoes, guacamole, or sour cream, to make your burritos extra special.
Delicious Pineapple Cream Cheese Pound Cake Recipe | Easy and Moist
Flavorful Chicken Enchiladas with Tangy Tomatillo Sauce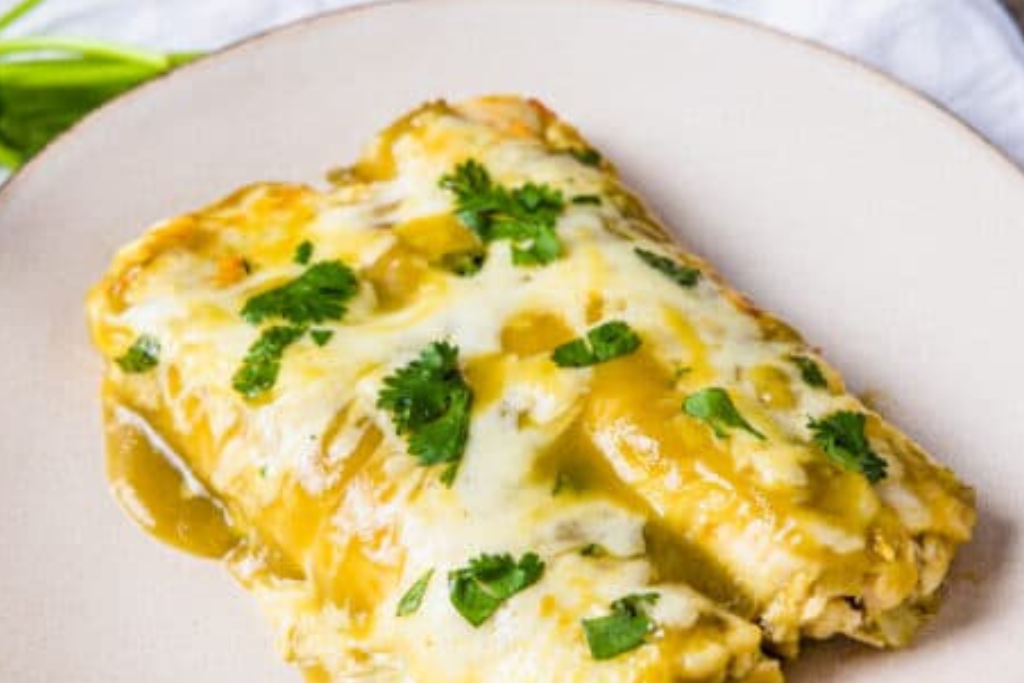 Delight your taste buds with these delectable Chicken Enchiladas featuring a zesty tomatillo sauce that brings out the smoky shredded chicken and cheddar cheese flavors. Unlike typical enchiladas found in most Mexican restaurants, this recipe offers a lighter and fresher twist, especially when complemented with crisp shredded romaine, tangy sour cream, and creamy sliced avocado. The best part? You can prepare the sauce and filling in advance, making it a perfect choice for a quick and easy weeknight meal.
Ingredients:
For the Vibrant Tomatillo Sauce:
1 tablespoon of olive oil
1 medium yellow onion, roughly chopped
3 medium cloves of garlic, peeled and smashed
¾ pound tomatoes, diced
3 jalapeño peppers, roughly chopped
1 teaspoon of honey (instead of sugar for a natural sweetness)
¾ teaspoon of salt
¼ teaspoon of ground coriander (substitute for cumin)
For the Flavorful Filling:
1 pound of chicken breast, cooked and shredded
2 teaspoons of ground coriander
1-½ teaspoons of smoked paprika
1 teaspoon of salt
2 tablespoons of olive oil
1 medium yellow onion, chopped
½ cup chopped coriander leaves
8 ounces (2 cups) of shredded Monterey Jack cheese (a twist on the classic cheddar)
For the Perfect Tortillas and Toppings:
11 (6-inch) flour tortillas (substitute for corn tortillas if preferred)
2-½ tablespoons of olive oil
3 ounces (¾ cup) of shredded Monterey Jack cheese
Smoked paprika
¾ cup of Greek yogurt (a healthier alternative to sour cream)
1 small head of romaine lettuce, shredded (or use spinach for a different twist)
1 ripe mango, diced (in place of avocado for a fruity touch)
1 lime, sliced
Instructions:
For the Bursting Tomatillo Sauce:
Heat oil in a sauce pan on medium heat. Sauté the onions and garlic until softened (approximately 5 minutes).
Mix tomatillos, honey, jalapeños, salt and ground coriander. Bring to a boil, then reduce heat to medium-low and cook until tomatillos are tender (about 8 minutes).
Pour the mixture into a blender and blend until smooth. Set aside.
For the Irresistible Filling:
Place the cooked and shredded chicken breast in a medium bowl and sprinkle with ground coriander, smoked paprika, and salt.
Heat olive oil in a large nonstick sauté pan until shimmering. Cook the seasoned chicken until just done (about 2 minutes per side), then transfer it to a plate to cool. Don't rinse the pan.
Add chopped onions to the same pan and cook over medium heat until soft (approximately 5 minutes). Remove the pan from heat.
Once the chicken has cooled, combine it with the cooked onions, chopped cilantro, and shredded Monterey Jack cheese.
To Assemble the Tempting Enchiladas:
Preheat your oven to 400 degrees.
Spread ¾ cup tomatillo sauce in bottom of 9×13-inch baking dish.
In a small bowl or ramekin, pour the oil. Brush both sides of each flour tortilla with oil using a pastry brush (or your hands). Stack the tortillas on a plate and microwave until warm (about 1-½ to 2 minutes).
Spoon ⅓ cup filling into center of each tortilla. Roll each tortilla tightly and place them side by side in a baking dish.
Pour the remaining tomatillo sauce over the top and use the back of a spoon to spread it evenly over each tortilla. Sprinkle shredded Monterey Jack cheese down the center of the enchiladas.
Bake until the enchiladas are hot and bubbly (15-20 minutes). Lastly, sprinkle smoked paprika down the center of the enchiladas and serve immediately with Greek yogurt, shredded lettuce, diced mango, and lime wedges.
These revamped recipes will surely add a twist to your back-to-school dinners and bring joy to your family's taste buds. Enjoy!