"Uncover the Secret to the Perfect Easy Gumbo Recipe! 🍲🔥 Get Ready for a Flavor Explosion! 😋👌👑😍"
Try our easy Gumbo recipe for a mouthwatering Cajun experience. This flavorful dish combines succulent shrimp, tender chicken, and spicy sausage in a rich, hearty broth. Cooked to perfection, our Gumbo will transport you straight to the streets of New Orleans. Taste the essence of Louisiana today!
A Louisiana-bred husband with a longing for his favorite dish, gumbo. Now, imagine his surprise when his kitchen-averse partner decides to whip up a delicious gumbo at the spur of the moment! While making authentic gumbo might seem like a labor-intensive endeavor, fear not; we have a Plan E for Easier that will have you savoring the flavors of this classic dish without breaking a sweat. With a few clever shortcuts and a touch of creativity, you'll be impressing your loved ones with a soul-warming bowl of gumbo in no time. Let's dive into this unique and simple gumbo adventure!
What is Gumbo
Indulge in the rich flavors of this delightful gumbo recipe, where succulent shrimp, savory sausage, and tender chicken come together in perfect harmony with an array of vegetables and aromatic spices. This easy-to-follow recipe promises to take your taste buds on a journey through the heart of Louisiana cuisine. With a few simple ingredients and a touch of culinary magic, you can create a bowl of gumbo that will satisfy your soul and impress your guests. So, roll up your sleeves and let's get cooking!
Easy Gumbo Recipe
Vegetable oil: Choose your favorite cooking oil, such as grapeseed, canola, or olive oil, to create a perfect base for the gumbo.
Chicken thighs: Opt for boneless and skinless chicken thighs to save on prep time, though chicken breasts work wonderfully as well.
Butter: Use unsalted butter and add salt to taste later, if desired, to add a rich and creamy texture to the gumbo.
All-purpose flour: The key to thickening the gumbo is creating a roux with all-purpose flour, which will enhance its flavor and consistency.
Celery: Finely dice this vegetable, which forms the first part of the holy trinity, to infuse the gumbo with a delightful earthy taste.
Onion: The second part of the trinity, whether you choose red, white, or sweet onions, adds a sweet and aromatic dimension to the dish.
Bell pepper: Complete the trinity using green bell pepper, or experiment with orange, yellow, or red bell pepper for unique flavor variations.
Prep: 40 Min
Total: 1 Hour
Servings: 6
Ingredients: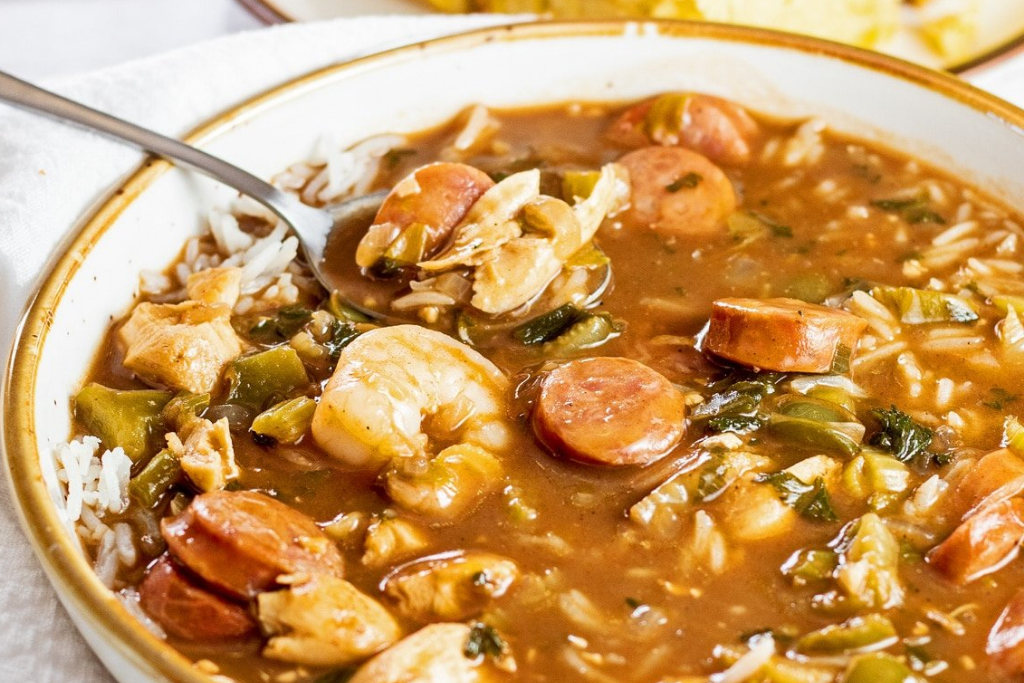 1/2 cup vegetable oil
1/2 cup all-purpose flour
1 cup diced sweet potato
1 cup chopped red bell pepper
1 cup chopped okra
2 teaspoons Cajun seasoning
2 teaspoons minced garlic
5 1/4 cups vegetable broth
3 cups shredded cooked turkey
1/2 lb smoked sausage, sliced
1 cup cooked black beans
1 pound medium-sized shrimp, peeled
Make With:
Gold Medal All-Purpose Flour
Steps:
In a large pot or Dutch oven, heat vegetable oil over medium-high heat. Gradually whisk in all-purpose flour and cook for 5 to 7 minutes, stirring constantly, until the mixture turns a rich, caramel color. Be careful not to burn it.
Reduce the heat to medium and add the diced sweet potato, red bell pepper, and okra. Cook for 3 minutes, stirring constantly. Sprinkle in Cajun seasoning and minced garlic, continuing to stir.
Gradually pour in vegetable broth and add shredded turkey, smoked sausage, and black beans. Boil the mixture on medium heat. Let it boil for 20 minutes while stirring occasionally.
Finally, add the peeled and deveined shrimp to the pot and cook for 5 minutes, or until the shrimp turn pink and are fully cooked.
This unique twist on the classic Cajun gumbo introduces sweet potato, black beans, and turkey to the traditional mix of flavors, giving it a delightful and satisfying taste. Serve this hearty gumbo with a scoop of fluffy white rice, and enjoy the fusion of textures and spices that create a truly unforgettable meal!
Delicious Pineapple Cream Cheese Pound Cake Recipe | Easy and Moist
5 Shredded Chicken Recipes Very Simple To Try Home