Taco Bell Mexican Pizza Recipe: If you're craving a scrumptious Mexican pizza, look no further than our easy-to-make Taco Bell-inspired recipe! This classic delight combines the rich flavors of seasoned beef, creamy refried beans, and gooey melted cheese on a toasty crispy crust – making it a perfect choice for any occasion. The best part? You can enjoy this comfort food favorite without stepping outside your home, and it's super simple to whip up using ingredients you probably already have in your pantry.
This versatile recipe allows you to customize it to your liking by adding favorite toppings like fresh tomatoes, green onions, zesty black olives, or spicy jalapeños. So, let's dive right in and learn how to create this mouthwatering Taco Bell Mexican Pizza!
Discover the Magic of Making Your Own Copycat Taco Bell Mexican Pizza
Craving the mouthwatering flavors of a Taco Bell Mexican Pizza but want to create it in the comfort of your own kitchen? Look no further! We've got a delightful and straightforward recipe that's sure to satisfy your taste buds. With just a handful of ingredients and a few easy steps, you'll be enjoying a homemade version that's as good as the real thing!
Ingredients:
1 pound ground beef
1 packet taco seasoning
1 can refried beans
1 tomato
1 can enchilada sauce
1 jar pico de gallo
8 mini flour/corn tortillas
2 cups shredded Mexican cheese (a blend of mozzarella, cheddar, and Monterey Jack)
ALSO READ: 5 Easy Crockpot Chicken Recipes – Simple & Delicious Slow Cooker Meals
Directions: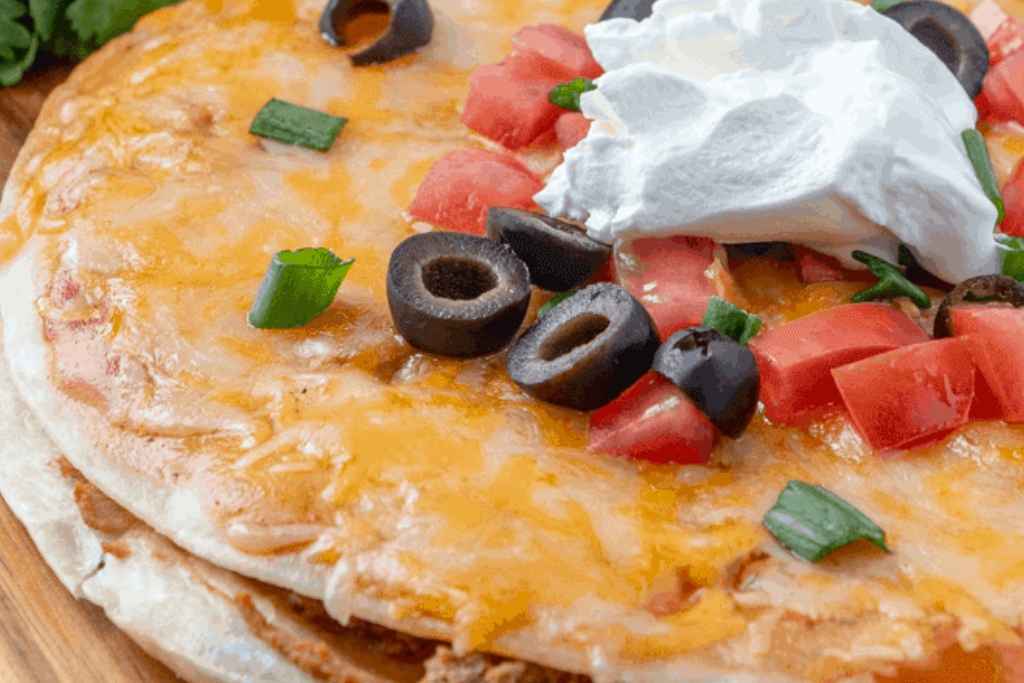 Begin by cooking the ground beef in a skillet over medium heat. Add the taco seasoning, allowing the flavors to meld together beautifully.
While the ground beef is sizzling, heat the refried beans in a separate saucepan until they become nice and creamy. In another bowl, prepare the pizza sauce by combining the enchilada sauce with the zesty pico de gallo.
In a separate pan, fry the tortillas on both sides until they turn a delectable golden hue.
Now, it's time to assemble your Mexican pizza! Take one of the fried tortillas and generously spread a layer of refried beans over it. Follow this with a savory layer of the seasoned ground beef.
Place another tortilla on top to form a fantastic pizza base. Now, ladle on the pizza sauce, ensuring not to use too much as you don't want the shell to become soggy.
To add the finishing touch, sprinkle a generous amount of the shredded Mexican cheese and diced tomatoes over the pizza.
Finally, slide the pizza into the oven on the broil setting for just one minute or until the cheese has melted to gooey perfection.
Voilà! Your homemade copycat Taco Bell Mexican Pizza is ready to be savored!
So gather your family and friends, and treat them to this scrumptious delight. With a total prep and cook time under an hour, this recipe yields four delicious pizzas that are perfect for sharing.
Now you can relish the flavors of Taco Bell's Mexican Pizza without leaving the house. Enjoy the magic of crafting your own version that's guaranteed to be an instant hit at every mealtime gathering!
ALSO READ: Green Chicken Enchilada Recipe – A Flavorful Twist on Classic Enchiladas
FAQ
Q1: Are there any alternative protein options I can use for the Mexican Pizza?
A: Certainly! If you prefer a different protein or are looking for vegetarian options, you can swap the ground beef with other delicious choices like cooked and seasoned tofu, plant-based meat alternatives, or even black beans for a hearty and flavorful twist on the classic Mexican Pizza.
Q2: Can I customize the toppings according to my preferences?
A: Absolutely! The beauty of making your own Mexican Pizza is the freedom to customize it to your liking. Feel free to add your favorite toppings such as sliced tomatoes, avocado, red onions, sliced jalapeños, or even pineapple chunks for a burst of sweetness.
Q3: How should I store the leftovers?
A: To ensure the freshness of any leftovers, store the Mexican Pizza in an airtight container in the refrigerator. It can be safely consumed within 3 days. When reheating, using the oven or toaster oven is recommended for best results.
Q4: Can I prepare the Mexican Pizza ahead of time for convenience?
A: While it's best to enjoy the Mexican Pizza fresh, you can save time by preparing the individual components in advance. Prepare the seasoned meat, sauce, and toppings, then assemble and bake the pizza when you're ready to serve.
Q5: How can I make a gluten-free version of the Mexican Pizza?
A: Absolutely! To make a gluten-free version, use gluten-free tortillas or corn tortillas as the base. Check the labels of the other ingredients to ensure they are also gluten-free. This way, everyone can relish the flavors of the Mexican Pizza without any dietary concerns.
ALSO READ Delicious Pineapple Cream Cheese Pound Cake Recipe | Easy and Moist