"Discover delightful gnocchetti pasta recipes featuring the unique flavors of gnocchetti sardi. Savor the taste of these mouthwatering Italian dishes."
Have you ever wished you could cook fresh, delectable pasta at home? You need look no farther than handmade malloreddus, or gnocchetti pasta. This delicious meal will wow your family and friends with authentic Sardinian spaghetti. In this post, we'll look at the background, ingredients, step-by-step directions, serving ideas, variants, and advice for producing the ideal handmade gnocchi pasta. Put your apron on and let's get cooking!
Gnocchetti sardi pasta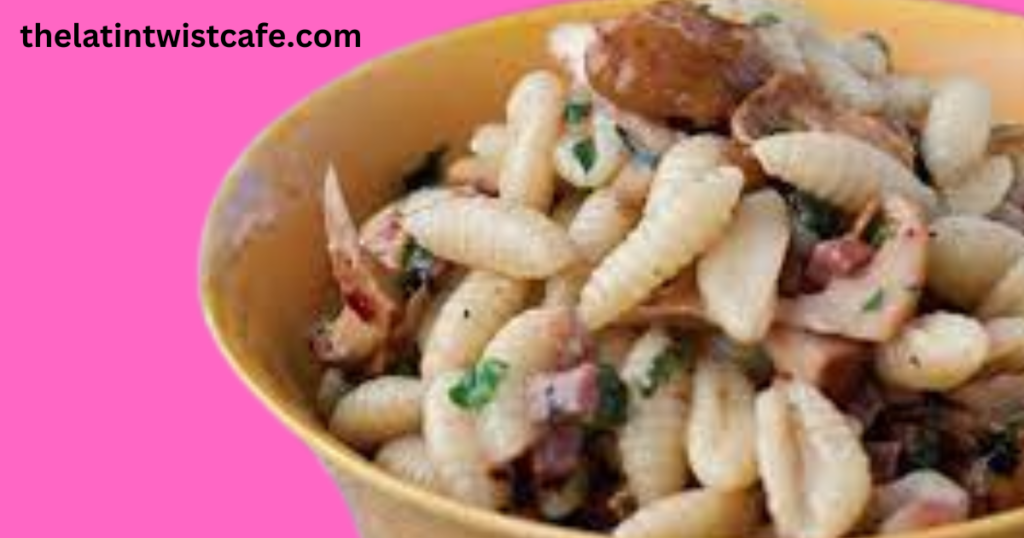 Since ancient times, pasta has been a mainstay of Italian cuisine, and gnocchi pasta is especially beloved among pasta connoisseurs. The tiny, elongated Gnocchetti pasta, sometimes called Malloreddus, has ridges that perfectly catch the sauce. You can manage the quality of the ingredients and personalize the taste by making this pasta from scratch.
what is Gnocchetti Pasta?
Traditional Sardinian pasta known as gnocchetti is prepared with semolina flour, water, and occasionally saffron or tomato paste for taste and color. The distinctive ridges that contain the sauce are made by rolling the dough into little cylinders and pressing them against a surface that has ridges. Due to the pasta's alleged resemblance to little calves' hooves, the term "Malloreddus" is taken from the Sardinian word for those animals.
The history of Gnocchetti Pasta
Gnocchi pasta has a lengthy and illustrious history. This pasta is a long-time favorite food in the area and comes from the Italian island of Sardinia. It was traditionally prepared by hand in Sardinian houses using cheap, easily accessible ingredients. Gnocchetti pasta became a beloved culinary treat in many Italian restaurants all over the world as it acquired popularity over time outside of Sardinia.
Gnocchetti pasta ingredients
The following components are required to produce handmade gnocchi pasta:
1 cup of water
2 cups semolina flour
Saffron or tomato paste, optional, for taste and color
Most grocery shops and specialty Italian markets carry these essential components with ease. It's essential to use premium semolina flour to give the pasta the texture and taste you want.
Directions for Making Homemade Gnocchetti Pasta Recipes in Detail
Making the Dough
1. Combine the water and semolina flour in a large mixing basin. Season with a pinch of salt.
2. With a fork, combine the ingredients until a shaggy dough forms.
3. Turn the dough out onto a clean surface that has been lightly dusted with flour and knead it for approximately 5-7 minutes, or until it is smooth and elastic.
4. If you wish to include flavor and Add a tiny bit of tomato sauce or saffron threads to the dough as you're kneading it to give your gnocchi pasta some color.
Making the Gnocchetti Pasta
1. Cut the dough into tiny pieces, and then roll each piece into a thin rope with a diameter of about 1/2 inch.
2. Snip the rope into pieces that are about a half-inch long.
3. Press each piece of dough against the ridges with your thumb or a gnocchi board to make the distinctive ridges on one side and a little bend on the other.
4. To avoid sticking, place the formed gnocchi on parchment paper or a tray that has been lightly dusted with flour.
Cooking the Gnocchetti Pasta
1. Start by heating up a large pot of salted water to a boil.
2. Carefully add the gnocchi pasta to the boiling water, and then cook it for 2–3 minutes, or until the noodles float to the top.
3. Drain the cooked gnocchi pasta of any extra liquid using a strainer and a slotted spoon.
Gnocchetti pasta serving suggestions
When your homemade gnocchi pasta is prepared, there are several ways you may serve it:
For a traditional Sardinian meal, combine it with a straightforward tomato sauce and grated Pecorino cheese.
For a heartier supper, serve it with a hearty beef ragù or Bolognese sauce.
For a delicious seafood pasta dish, serve it with seafood, such as shrimp or clams, in a white wine and garlic sauce.
Due to the adaptability of gnocchi, you may experiment with various sauces and toppings to suit your palate.
Gnocchetti pasta variations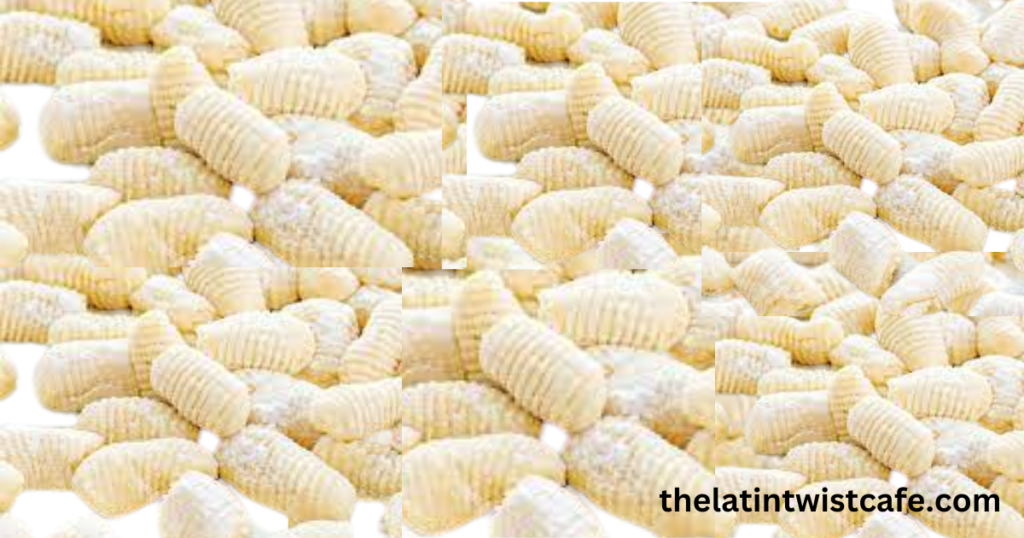 While the basic ingredients for gnocchi are semolina flour, water, and optional tomato paste or saffron, there are other alternatives you may try:
Whole Wheat Gnocchetti: To give the dish a nuttier taste and more nutritional value, replace some or all of the semolina flour with whole wheat flour.

Spinach Gnocchetti: To give the dough a bright green hue and a delicate earthy flavor, mix in blanched and well-drained spinach.

Squid Ink Gnocchetti: To make a strikingly black version of the pasta that goes well with seafood-based sauces, substitute part of the water with squid ink.
Feel free to use your imagination and try out various ingredients to give this traditional pasta its own unique spin.
Advice for Making the Best Gnocchetti Pasta Recipes at Home
To form the pasta, use a gnocchi board or a tool with ridges. This improves the entire eating experience by helping the sauce stick to the ridges.
To keep the gnocchi pasta from sticking together after shaping, cook it right away.
Gnocchetti pasta cooks rapidly and should be soft but firm to the bite. Avoid overcooking it.
You may freeze the gnocchi pasta in a single layer on a tray before transferring it to a freezer bag for later use if you don't want to cook it right away.
Advantages of Homemade Gnocchetti Pasta recipes
Making homemade gnocchi pasta has a number of advantages:
Freshness: Homemade pasta is far fresher and tastier than alternatives from the supermarket.
Quality Control: Since you have total control over the ingredients, you can be sure that the pasta will be better-tasting and healthier.
Gnocchetti preparation experience Making your own pasta from scratch is a delicious culinary experience that will help you understand the craft of pasta-making.
Customization: Try different tastes and hues forms to design a pasta meal that is unique to your tastes.Making handmade gnocchetti pasta enhances the dining experience and dazzles visitors with an exquisite and genuine Italian meal.
Summary
You may simply prepare the delicious pasta meal, homemade gnocchetti pasta, also known as malloreddus, in your own kitchen. Gnocchetti pasta is a flexible canvas for a variety of sauces and tastes thanks to its distinctive form and texture. You may take pleasure in making a delectable, homemade pasta meal by following the step-by-step directions and adding your own inventive touches. Therefore, assemble your ingredients, channel your inner chef, and savor the tastes of real Italian food.
FAQs (Frequently Asked Questions)
Can handmade gnocchi pasta be frozen?
Yes, handmade gnocchi pasta can be frozen. Place the shaped pasta in a single layer on a baking sheet and freeze until firm. Store the frozen gnocchi pasta for up to two months by transferring it to a freezer bag or other airtight container. Add a few more minutes to the cooking time by heating them directly from the freezer in boiling water.
What dipping sauces go well with gnocchi pasta?
Gnocchetti pasta goes well with a wide range of sauces, including seafood sauces, tomato-based sauces, pork ragù, pesto, and creamy cheese sauces. Pick a sauce that blends well with the pasta's tastes and textures.
Is it possible to produce gnocchi pasta without using eggs?
It's true that classic gnocchi pasta does not call for eggs. To make a great pasta dough, semolina flour and water are all that are required. However, you may add one egg to the dough mixture for a little fuller flavor if you prefer pasta made with eggs.
What should I do with leftover gnocchi pasta?
Any leftovers should be kept in the refrigerator for up to three days in an airtight container to two days. To consume them, gently reheat in boiling water or toss with spicy sauce.
Where did gnocchi pasta come from?
Malloreddus, another name for gnocchi pasta, is an Italian delicacy that comes from the island of Sardinia. It has been a beloved meal in the area for many generations and has become more well-known all over the world.
Can I replace the semolina flour with all-purpose flour?
While all-purpose flour can be used as an alternative, the texture and flavor will change. The distinct flavor and somewhat gritty texture of semolina flour add to the overall appeal of gnocchi pasta.
What should I do with leftover gnocchi pasta?
If you have any leftovers, you can keep them in the fridge for up to two days by placing them in an airtight container. To consume them, gently reheat in boiling water or toss with spicy sauce.
Is it possible to freeze handmade gnocchi pasta?
Yes, handmade gnocchi pasta can be frozen. Place the shaped pasta in a single layer on a baking sheet and freeze until firm. Store the frozen gnocchi pasta for up to two months by transferring it to a freezer bag or other airtight container. Add a few more minutes to the cooking time by heating them directly from the freezer in boiling water.
Which sauces complement gnocchi pasta?
Gnocchetti pasta goes well with a wide range of sauces, including seafood sauces, tomato-based sauces, pork ragù, pesto, and creamy cheese sauces. Pick a sauce that blends well with the pasta's tastes and textures.
Is it possible to create gnocchi pasta without using eggs?
It's true that classic gnocchi pasta does not call for eggs. To make a great pasta dough, semolina flour and water are all that are required. However, you may add one egg to the dough mixture for a little fuller flavor if you prefer pasta made with eggs